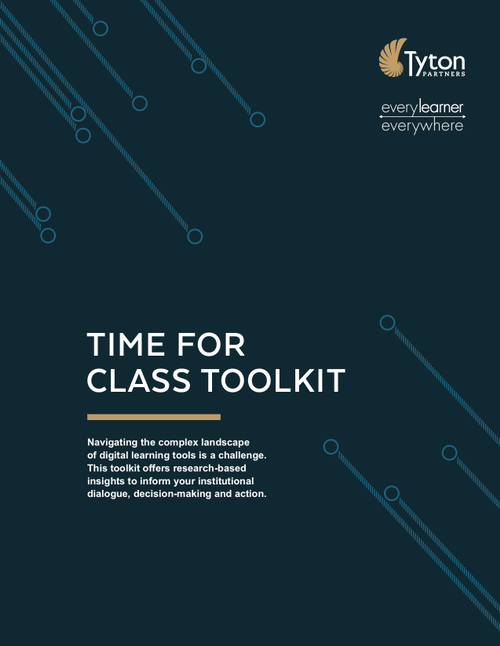 Time for Class 2019 is a national longitudinal survey of 4,000+ higher education faculty and administrators, fielded since 2014 by Tyton Partners and the Babson Survey Research Group. Results inform a comprehensive fact base on the postsecondary digital courseware landscape, in the service of making this complex market easier to navigate for institutions and educators.
The Time for Class 2019 Toolkit is a set of research-based action briefs and tools designed to support institutional dialogue, decision-making and action. Use the clickable map below to navigate to a specific brief or you can download the full toolkit.
If you have questions about the study, please email [email protected]
Digital Learning Action Briefs
Courseware Action Briefs
About this Survey
Overview
Overview of Time for Class 2019 survey methodology, sample size, and demographics
Tyton Partners
Tyton Partners is the leading provider of investment banking and strategy consulting services to the education sector and leverages its deep transactional and advisory experience to support a range of clients, including companies, foundations, institutions, and investors.
‍For more information, visit tytonpartners.com.
The Babson Survey Research Group
The Babson Survey Research Group is a survey design, implementation, and analysis organization. Founded in 2005, the organization has worked on a number of large surveys including an annual survey of online education that includes all colleges and universities in the United States.
‍For more information, visit onlinelearningsurvey.com.
Download Time for Class 2019 Toolkit