SOLVE by Every Learner is the home of our complete library of innovative teaching and learning resources
On this page we highlight our Pillar Resources, guides, and other materials developed by Every Learner Everywhere network partners. Our Pillar Resources are the culmination of extensive research on digital learning and improving outcomes for racialized, first-generation, and students burdened by systemic wealth inequality. Please check this page regularly, as our network is continually incubating and developing new resources designed to advance equity and student success in higher education.
Visit our Solve website to browse a complete collection of additional resources developed by Every Learner Everywhere that cover a range of topics within digital learning, e.g. equity, remote instruction, and digital learning implementation. All resources are created or vetted by network partners and designed to help improve student experiences and outcomes in gateway courses, whether delivered in-person, online, or a hybrid of the two.
Higher education's response to the COVID-19 pandemic has ignited the need to improve student success in high-priority courses and to improve equity for Black, Latinx, Indigenous, poverty-affected, and first-generation learners. …
This past fall, higher education faculty across the country, after having worked throughout the summer to rebuild and redesign courses, showed up to "keep teaching" for their students, primarily in …
This resource is a guide for Course Instructors to center racial and socioeconomic equity and student voice in the adoption and implementation of adaptive courseware. After years of implementing adaptive …
This summer, college and university faculty across the country planned for a fall like no other. After the rapid and unprecedented movement to emergency remote teaching this spring, faculty were …
Since mid-March, the least resourced students and their families have been most impacted by COVID-19. The Council for Opportunity in Education (COE) Indicators report of 2019 pointed to many alarming …
The spring 2020 term saw an unprecedented response to an unprecedented challenge as virtually every U.S. higher education institution offering face-to-face instruction rapidly switched to remote instruction, many in as …
For all students to have an equal opportunity to succeed, instructors must personalize learning rather than teach to a fictional average student. Learning analytics has the potential to assist instructors …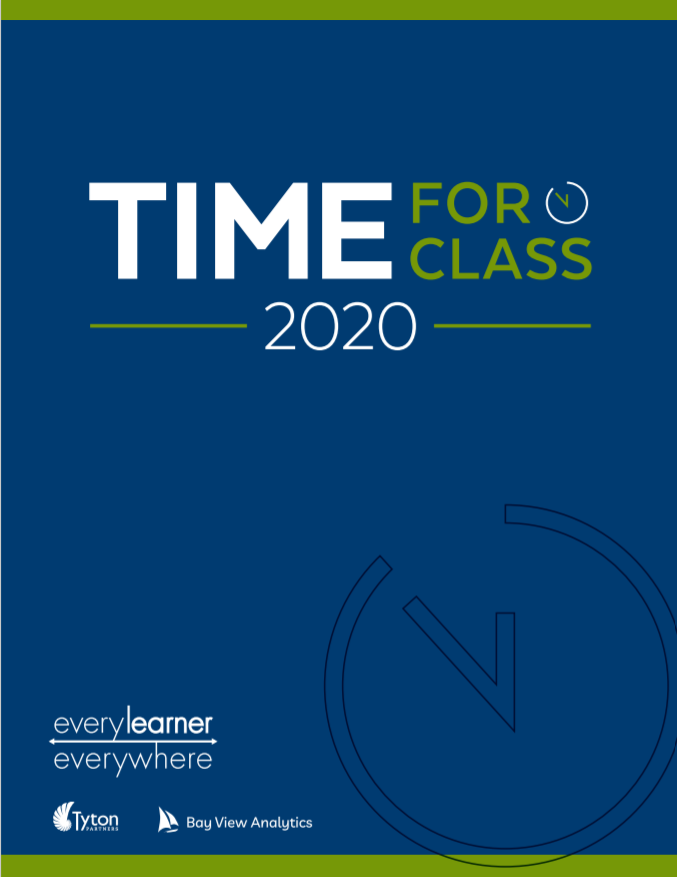 Since 2015, Tyton Partners, in partnership with Bay View Analytics, has tracked the state of higher education digital learning, courseware and digital adoption via Time for Class, the largest longitudinal …
This spring, higher education institutions engaged in a rapid and unprecedented movement to remote teaching and learning that exposed a new cohort of faculty with no prior experience teaching online …
College students' satisfaction dropped sharply after schools shifted to all-online courses during the COVID-19 pandemic. Undergraduate students struggled to stay motivated and missed receiving feedback from instructors and collaborating with …
Delivering High-Quality Instruction Online in Response to COVID-19 is a faculty-focused playbook intended to improve course design, teaching, and learning in online environments. With special attention to the needs of instructors teaching online for the first time, the guide offers strategies for getting started and improving over time. 
The NLC Framework is a cohesive resource that includes: Core Values, Core Principles, Inquiry Questions for Self-assessment and Planning, and Guidelines for Implementation and Evaluation. You'll find not only an overview of its development, but also exercises designed specifically to guide you and your institution in developing a strategy for supporting professional development and learning.